We assist enterprises meet their software-based development goals through well-defined and standard project based engagements.We provide our technology solution, domain expertise, skilled staff, and industry experience to assist you get quality outcome.Over the years, we have delivered solutions that are of great quality and high performance.
Our Approach
With our project engagement model, we are completely responsible for the comprehensive process by way of addressing your organizational issues. It may be a total solution, a small solution, or a set of different solutions. We provide access to multiple resources across onsite and offsite.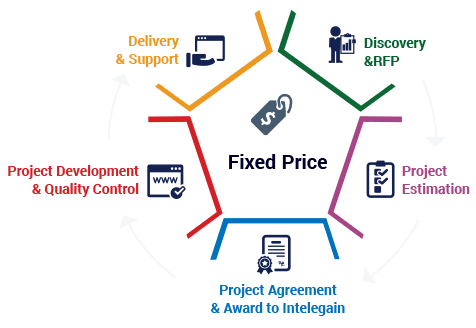 Services we provide
Project Management
Billing – Time and Material & Fixed Time and Material basis.
Fixed Price
We provide Fixed Price IT solution development services to our clients.
Under this model we ensure delivering software solution and other services at a fixed or pre-determined rate.
As long as the client requirements remain the same, the cost will remain the same.
We have helped several small and mid-size businesses in project planning – fixing the delivery time and cost that are in-line with their specific operational goals and objectives & overall budget.