Intelegain is focused on establishing a long-term strategic partnership with its clients. We help enterprises attain their software-based operational objectives through reliable project-based engagements. We invest our technology and industry solution and employ domain expertise and experience over the project development course to deliver quality and scalable output for our clients.
With the goal to provide a quality outcome in mind, we offer the time and material solution for your project that befits your unique business requirements, thus ensuring a productive and long-term outsourcing partnership with us.
Time and Material Model
When the project scope, requirements aren't stable and may change dynamically during the onset or implementation process, or at any mid-project stages, the Time & Material Model provides the flexibility to regulate the size and emerging requirements of your project, while optimizing time and cost.
Our Time and Material Model offer you a high degree of flexibility to modify project specifications, incorporate unplanned activity and increase or decrease project resources depending upon the client's evolving requirements, over the project lifecycle. We provide you the flexibility to switch to our Fixed Pricing Model once your project scope is determined.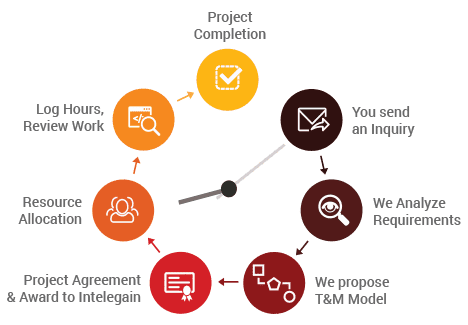 Our Time and Material Model is also suitable when
Project demands R&D
Business process have not been properly outlined
Project requirements continue evolving due to lack of manpower or market/technology change
The project requires integration with third party environment, or migration
The project calls for new and improved technology