If you have a brilliant idea for your app development project, but at the same time you also have continuously changed business requirements then a Fixed Monthly Engagement Model could be a suited choice for you. In this model, you hire an experienced app developer/designer or a team of the same by paying a fixed monthly fee.
Intelegain's Fixed Monthly Model
Fitting your business needs, we will assign a dedicated resource to your project who will be continuously working towards realizing your app requirements. The dedicated resource will be directly reporting to you, which makes it easy for you to assign and schedule your tasks. This employee would be working virtually, but dedicatedly for you from our office.
Suited to your business and project requirements, Intelegain can also assign you a full-fledged team with the required number of development resources, project managers, equipment and infrastructure. This engagement model gives our clients the complete flexibility to use our resources in the business undertaking, complementing their area of expertise.
Benefits
With Intelegain's fixed monthly engagement model, your business development can achieve a competitive advantage. Our skilled professionals have rich expertise with app development that fits well into your requirements. Let us here put forth what Intelegain can offer with Fixed Monthly engagement model and how can it benefit you in accomplishing your business objectives: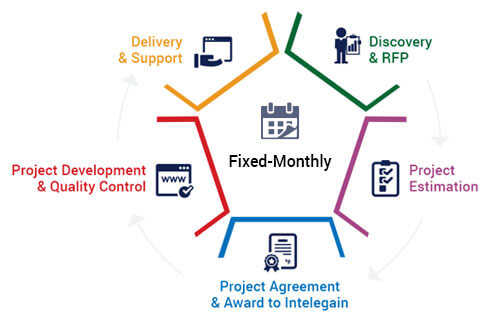 Dedicated development team working identically to the client time zone
A favorable working environment
A guaranteed timely communication via mails, calls and IMs
Regular status reporting (can be daily or weekly)
No need for any IT infrastructure setup
Increased app efficiency, along with huge cost savings
Smooth project development and execution
Complete access, transparency and operational control
High ROI with minimal risks involved
No need for long-term investments
Access to the most efficient domain-specific resources
If you are looking for a cost-effective resource solution for a predefined time-frame, then Intelegain Fixed Monthly model is one good option to consider.
Contact us today for more information on this.