Intelegain's Hybrid Delivery Model
Ensure your app's efficiency optimization and cost-effectiveness with a perfect collaboration of our Onsite and Offshore teams
The hybrid model is an excellent combination of both onsite and offshore delivery models. This composite model is intended at enhancing efficiency and optimizing the cost of project development.
In this model, the work is appropriately distributed between our onsite and offshore teams. The onsite team provides the necessary support and solutions for business strategic issues, whereas the offshore team takes care of delivering development services.
Our onsite team will include specially qualified staff, who will be proficient with requirement gathering, analysis, testing and deployment phases of the project. The actual project development takes place at the offshore end. Together with the development, our offshore development center is also responsible for providing onsite support.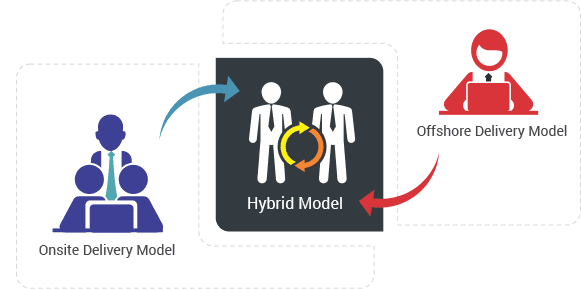 Intelegain Hybrid Model Advantages:
Communication
Usually, the Hybrid Model is chosen for long-term projects where the client is not willing to maintain a large onsite team. Our clients are the primary beneficiaries out of the hybrid delivery model as it enables them to have one-on-one communication with our onsite team. This lucid communication also enhances the overall project communication at both onsite and offshore ends.
Profitability
This is another major benefit with the hybrid model. Managing an offshore development center is a cost-effective approach, as it saves the client's additional expenses. The benefits of this model are also apparent in cases when the client makes frequent changes in his project specifications. Here, our onsite team will always be there for your assistance. They will always be available for you to analyze the risks beforehand, and likewise take necessary mitigation steps.
Resources
Get access to Intelegain's strong foundation and the best resources with the latest technology expertise, working with our offshore development centers.
By now it must be evident why the Hybrid Delivery Model at Intelegain is an ideally efficient and a rewarding approach for the development of your next app. Contact us today for assistance. We have our offices in New York, Dallas & India.