The Coronavirus pandemic has plagued countries around the world and across various demographics. Reported cases have crossed the 4.5 million count mark, while the global death toll has risen to over 304,384 people (officially recorded). It is the biggest health crisis of modern times. As frontline workers and healthcare professionals face this challenge head on, researchers have been engaged in a pursuit to figure out better ways to deal with the pandemic. Technology is at the forefront and governments are teaming up with healthcare organizations to implement better strategies and solutions. Presented below are few examples of how technology has stepped-up against Covid-19:
Contact Tracing Apps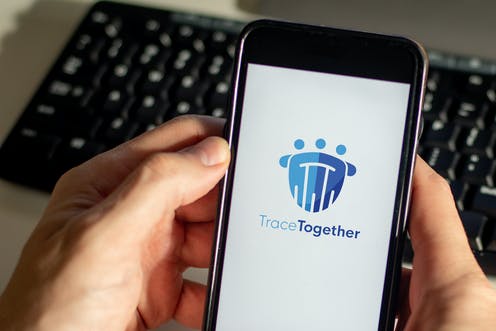 India: Amidst the rising cases of Coronavirus in India, the Central Government launched a contact tracing app called Aarogya Setu. It is both, Location and Bluetooth based; wherein a user is alerted if they have been in the proximity of anyone infected with the virus by going through a database of reported Covid-19 cases. The government has a copy of the data. On registration, Aarogya Setu requires details like the user's name, number, gender, travel history and if they smoke or not.
Singapore: In March 2020, the Singapore Government launched TraceTogether. The app was developed by the Government Technology Agency in collaboration with MOH. TraceTogether can be downloaded on any smartphone with a Singapore registered number. The app requires users to keep their Bluetooth and Location settings on. It works by exchanging short-distance Bluetooth signals between other users in close proximity with the app on their phones.
With a second wave of the Coronavirus hitting Singapore, the government has gone ahead with a different approach with SafeEntry. Under SafeEntry, any individual who visits a location will be required to check-in with a national form of ID or through a QR code scanned using their smartphone. The list of locations covered under SafeEntry include healthcare sites, schools, offices and hotels.
Australia: The country has come up with a voluntary contact tracing app called COVIDSafe. Once the app has been downloaded, the user will be asked to register their details like name, age, phone number and postal code. COVIDSafe, too, works on Bluetooth. However, the data is consent-based. This means that if a person gets infected with Covid-19, a health official will send them a unique code though an SMS which is to be used in the app. The code is to consent for the upload of a list of anonymised IDs that the infected individual would have come in contact with over the past 21 days for contact tracing.
Drones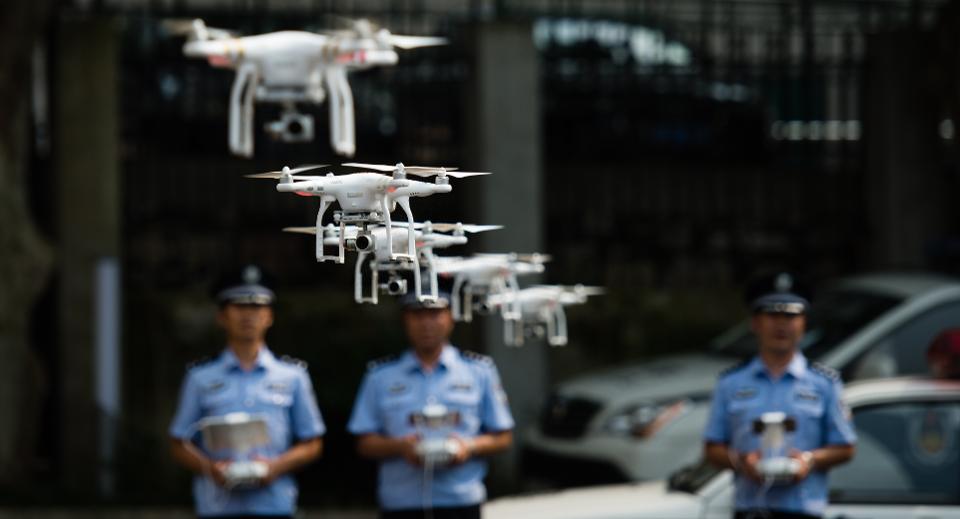 China: The first country to be hit with the Coronavirus, China is not taking any chances as it recovers and life heads back to normal. The Government of China is making sure that there is no sudden spike in the number of active cases by employing surveillance through drones. Reportedly, these drones are equipped with thermal sensors to help detect individuals running a high temperature in public spaces. This measure is aimed at scanning larger populations for potential Covid-19 infections.
USA: As social distancing guidelines are imposed around the country; the police is relying on the help of drones to dispense some of their patrolling duties. In the states of New Jersey, California and Florida, drones attached with loudspeakers are being deployed near parks and beaches to remind the public that these spaces are closed and that they should maintain social distancing. The drones are actively being used to make announcements. It has helped the department maintain order and advocate stay-at-home policies while also keeping their officers safe from potential infections.
Remote Symptom Management Using AI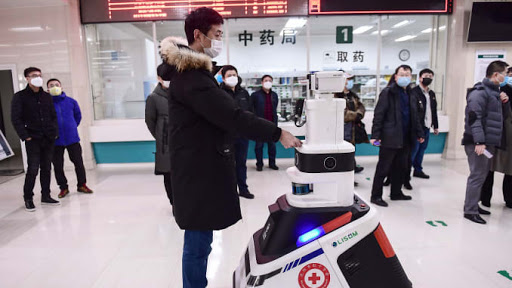 There has been remarkable advancement in the fields of digital therapeutics and personalized predictive care in recent times. It is possible now, to monitor a patient remotely through wearable devices and clinical-grade sensors. This helps in preventing further infection risks to healthcare professionals and caretakers.
Biofourmis: This Singapore-based global health IT-startup has been working on an AI-Powered Remote Monitoring Platform. Its Biovitals Sentinel platform aims to provide fresh insights to help tackle the Covid-19 pandemic. Biofourmis CEO, Kuldeep Singh Rajput explained that through clinical-grade wearables, confirmed patients and suspected infection cases, kept in quarantines can be monitored for multiple physiological signs. This data when combined with advanced analytics can potentially offer insights into the detection of changes in general health that indicate clinical deterioration warranting medical attention.
Telehealth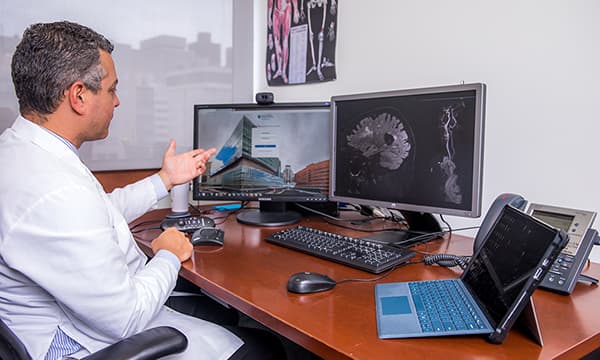 Given the fact that Covid-19 is highly contagious, social distancing is vital. Yet, patients who require medical attention for other varied reasons cannot be ignored and nor would in-person visits to the clinic be advisable. A growing number of doctors and healthcare providers are taking their services online. Through Telehealth, healthcare professionals are connecting with their patients through the internet and high-quality video calling. Following are two Switzerland-based pioneers who are helping make digital consultations possible:
Stuward: This firm has made it possible for independent medical professionals to connect with patients through online consultations. Through its telemedicine application, Stuward VU, anyone can schedule and attend an online consultation with a healthcare provider from within the comforts of their own home.
eedoctors: Bringing the doctor's office straight to you, these innovators have created the first virtual doctor's office which can be accessed from a smartphone. The app enables virtual consultations through which formal diagnosis can be made leading to a breakthrough in telemedicine.
Data Analysis
'Data is the new oil.' It is as powerful as it is valuable. And the world is beginning to realize the importance of data collection and analysis in the field of medicine. As Covid-19 is a relatively new opponent, data on it is fresh and far from enough. Healthcare organizations around the world have taken cognition of the challenge and risen again it. Here is one of the initiatives undertaken:
Medicomp: The US-based electronic health record system (EHRs) service provider has been working with several healthcare organizations to revamp the existing health record infrastructure. According to Medicomp's Chief Medical Officer, Dr. Jay Anders, healthcare workers require data which is collected, stored and distributed in a format that is both structured and clinically relevant. However, the existing EHRs face the issue of large data being stored in an unstructured way making it inaccessible. In light of the Coronavirus pandemic, Medicomp is working to address this pain point through its Quippe Clinical Data Engine. The platform seeks to provide healthcare professionals with details on any specific patient for any known or suspected disease state, delivering clinical data in a structured manner.
Over the course of this health crisis, Technology has emerged as a useful ally. There are undoubtedly gaps that still need to be addressed between the existing technological infrastructure in healthcare. One thing that has stood out is the undisputed importance of data. Apprehensions are still present around privacy and data sharing. Efforts need to be made by Big Techs and governments to address these concerns. The way ahead is through advancements in technology and gaining public trust. It would be interesting to see how everyone moves forward from this point onwards.
Read more on Covid19 :