Silicon Valley start-ups were already drying up with giants like WeWork going belly-up when the coronavirus hit. Now many of these start-ups are shutting down as consumer spending is lowered and unemployment is set to increase. Every aspect of start-ups and small businesses from fundraising to employees, to customers, is upended by the Covid-19 virus. Let's take a look at how large enterprises to startups and small businesses are faring amidst the coronavirus global pandemic.
· Amazon and Netflix stable-Apple, Google and Facebook roughly inline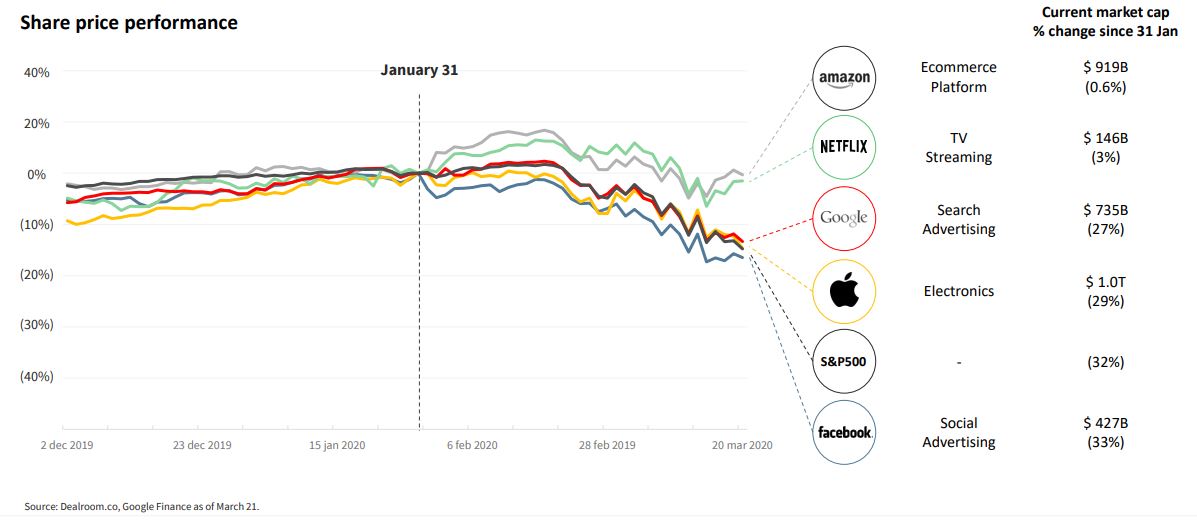 Netflix Inc has become an important part of entertainment for the general public around the world who are forced to stay at home in the middle of the lockdown. Since the stay-at-home mandate is enforced all around the world- it has prompted increased online shopping. Amazon, being one of the largest e-commerce giants have profited from this surge.
The current market cap for Amazon is $919 B with just a slight dip of – 0.6%* is share price performance. Meanwhile, for Netflix, the current market cap is $146 b with – 3% dip* of shares.
Meanwhile, tech giants such as Apple, Google, and Facebook were roughly in line – with Google's market cap of $ 735 B falling – 27%*, Apple's market cap of $ 1.0T falling – 29% change and Facebook's market cap of $427 B decreasing – 33% * in share price performance.
· Food Delivery, Video Conferencing, and Healthcare markets soar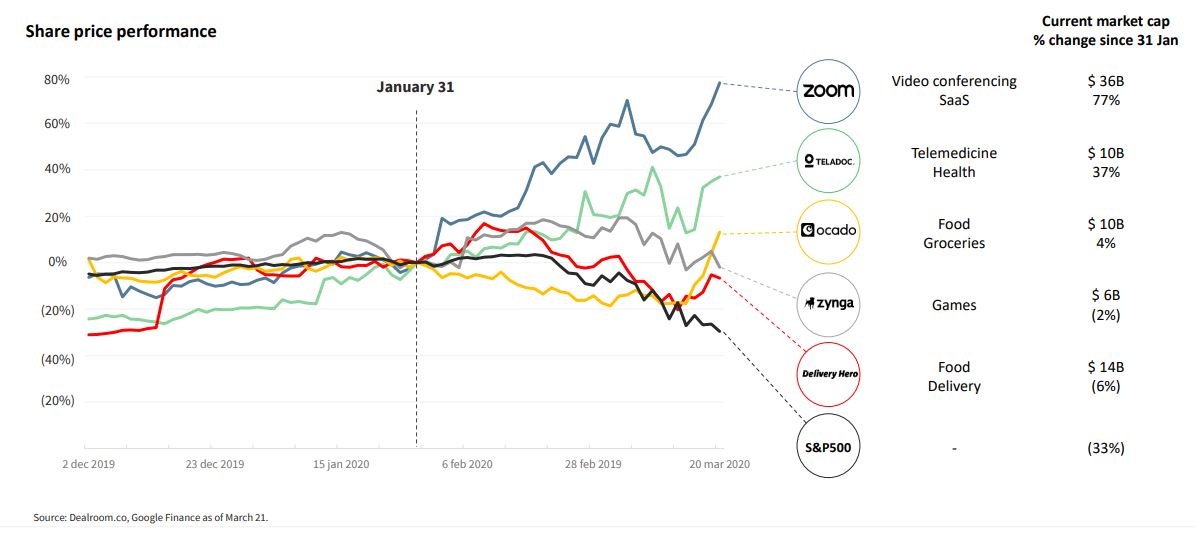 Calling them "stay at home stocks"- the video games, video streaming, food delivery, telemedicine, video-conferencing stocks are soaring in the market. All in all, companies selling an alternative to in-person interaction- industries catering to work from home, ordering takeout, home delivery medicines and shut-ins are staying afloat comfortably amidst this pandemic.
Video conferencing companies like Zoom currently has a market cap of $ 36B with 77% *growth in share price performance. Representative Telemedicine and virtual healthcare company like Teladoc has a market cap of $10 B with a jump of 37%*. Meanwhile, essential services like online supermarket giant Ocado soared 4% since 31st Jan 2020 with a market cap of $10 B.
The Covid-19 lockdown world-over has increased population's need for entertainment and delivered food- thus game companies like Zynga has remained relatively stable with just a 2% *fall in share price performance (current market cap at $6 B)and food delivery company like Delivery Hero has had a 6%* fall at stocks with a current market cap at $14 B.
· Retail, Travel, Mobility, and Advertising among those hit hard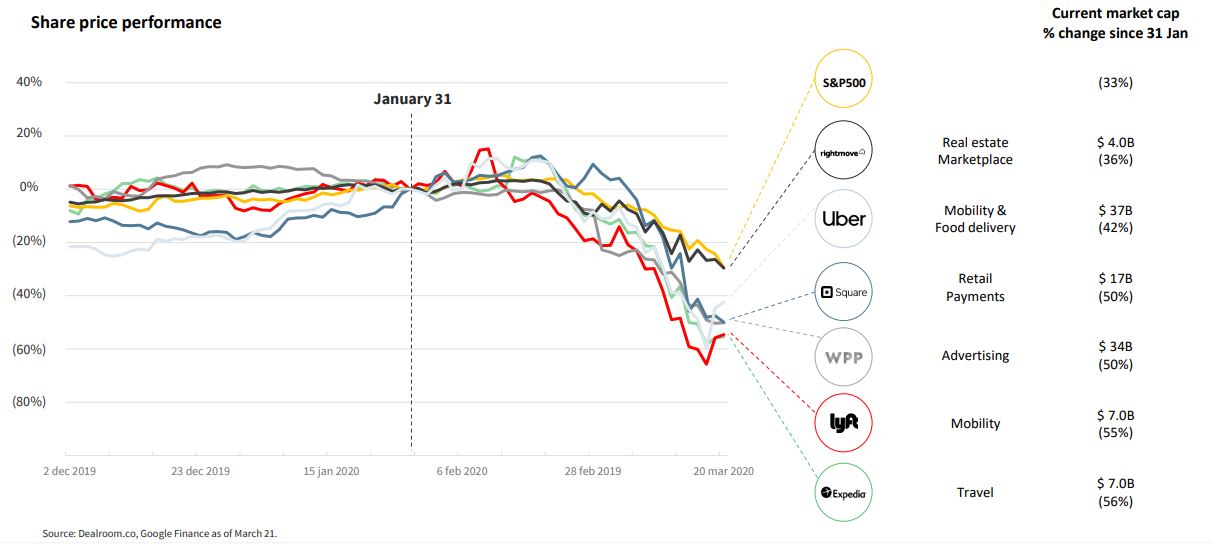 As expected, the travel industry has been hit hard by the covid-19 pandemic with travel bans enforced the world over. Travel companies like Expedia have been hit hard with a fall of -65%* decrease in shares and current market cap at $7.0 B.
The travel ban has also affected the mobility sector with large corporations like Uber experiencing 42%* fall in shares and market cap currently at $37 B and Lyft with their 55%* downfall in shares (market cap at $7 B).
The leisure market is not the only one facing loss, though- real estate company like Right Move has experienced a fall of 36%*- market cap at $4 B. Advertising media company WPP has tumbled 50%* in shares with a market cap of $34 B. Meanwhile, retail payment company Square have also suffered 50%* decrease in shares with a market cap of $17 B.
· Geographically, Asian companies fare better with few exceptions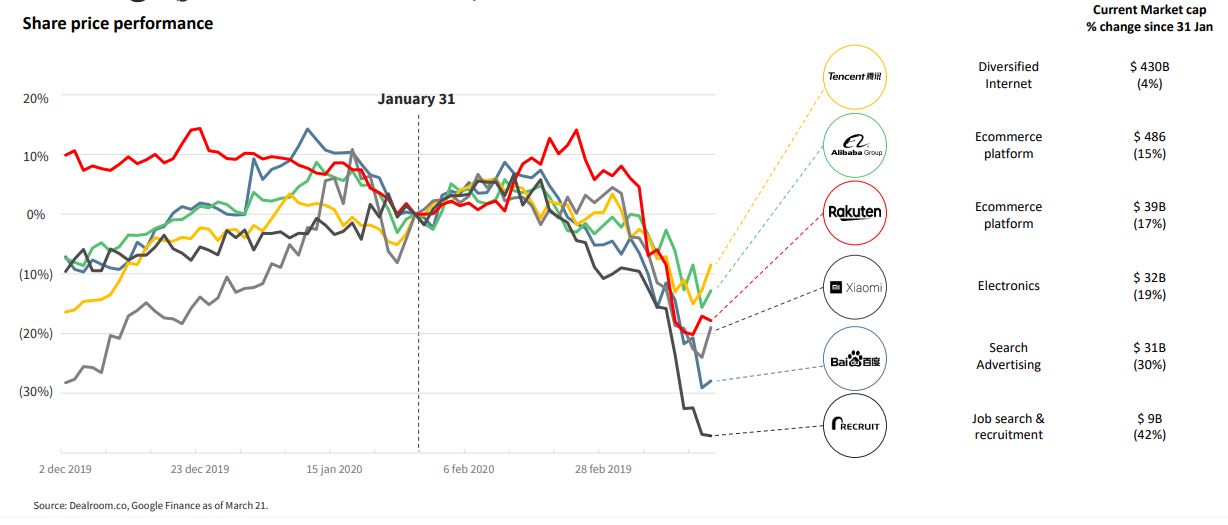 Large Asian corporations have fared better in stability compared to their American and European counterparts. Chinese multinational conglomerate Tencent which provides various internet services experienced a small fall of 4%* in share prices, now their market cap is valued at $430 B.
Chinese e-commerce giant like Alibaba and Japanese e-commerce platform Rakuten, though faced larger fall compared to the American counterpart Amazon. Alibaba experienced a 15%* decrease in share price performance (market cap at $486 B). Meanwhile, Rakuten experienced a 17%* drop with a market cap at $39 B.
Chinese companies like Xiaomi (Electronics Company) are fairly stable with just a 19% fall in shares and market cap valued at $32 B and Baidu (search advertising agency) dropping 30%* in shares and market cap at $31 B.
The Japanese job search and recruitment company Recruit has suffered a 42%* fall in shares almost comparable to European and American companies; Recruits' market cap is valued at $9B.
· Health, gaming, e-commerce, food delivery, and most SaaS outperform in the market amidst covid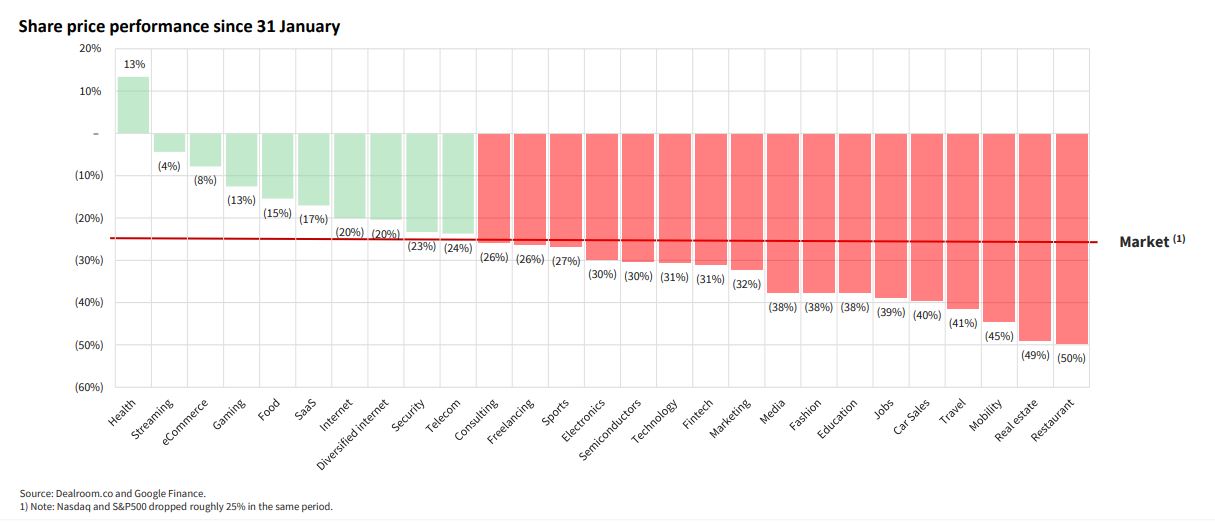 The share price performance of SaaS industries is outperforming in the stock market. The Healthcare sector has boost up 13%. Despite both Nasdaq and S&P500 dropping roughly 25% in the same period- some SaaS businesses have suffered comparatively negligible losses, for e.g. Streaming moved down 4%, eCommerce (- 8%), Gaming ( – 13%), Food ( – 15%), SaaS ( – 17%), Internet ( – 20%), Security (- 23%), Telecom ( – 24%).
In comparison, businesses like Education (- 38%) and Restaurants (- 50%) have suffered major losses.
· Most valuable European tech & internet companies lost a combined €383 billion in value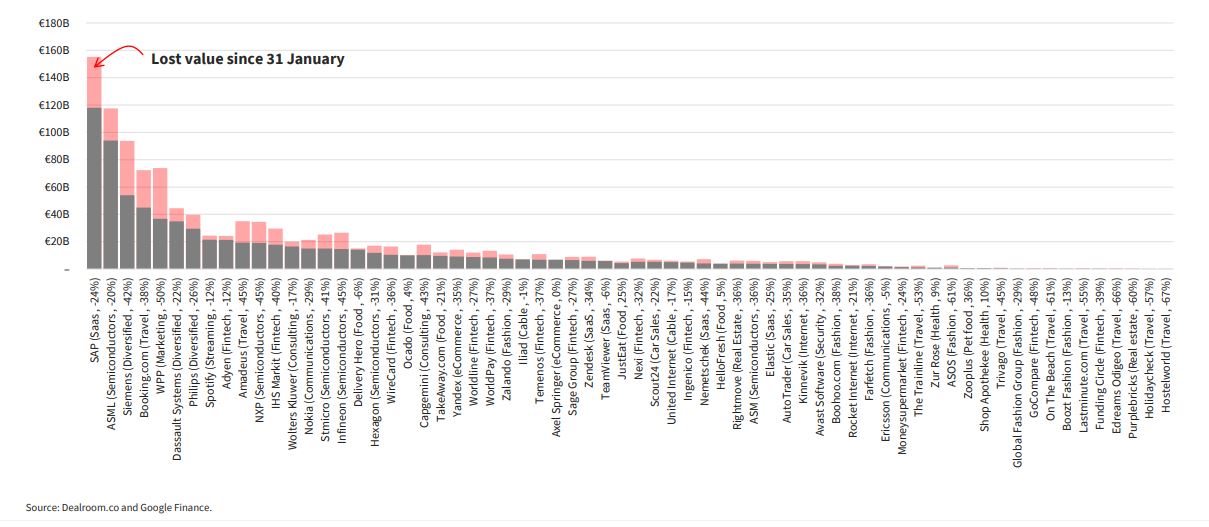 Most valuable European companies experienced loss in the combined value of €383 billion- down 33% from €1.1 trillion to €0.8 trillion.
Companies like SAP (SaaS) – 24% loss, ASML (Semiconductors) -20% loss , Siemens (Diversified) -42% loss, Booking.com (Travel) -38% loss, WPP (Marketing ) -50% loss, Dassault Systems (Diversified) -22% loss, Philips (Diversified) -26% loss, Amadeus (Travel) -45% loss, NXP (Semiconductors) -45% loss, IHS Market (Fintech) -40% loss.
· Absolute percent change for most valuable European tech & internet companies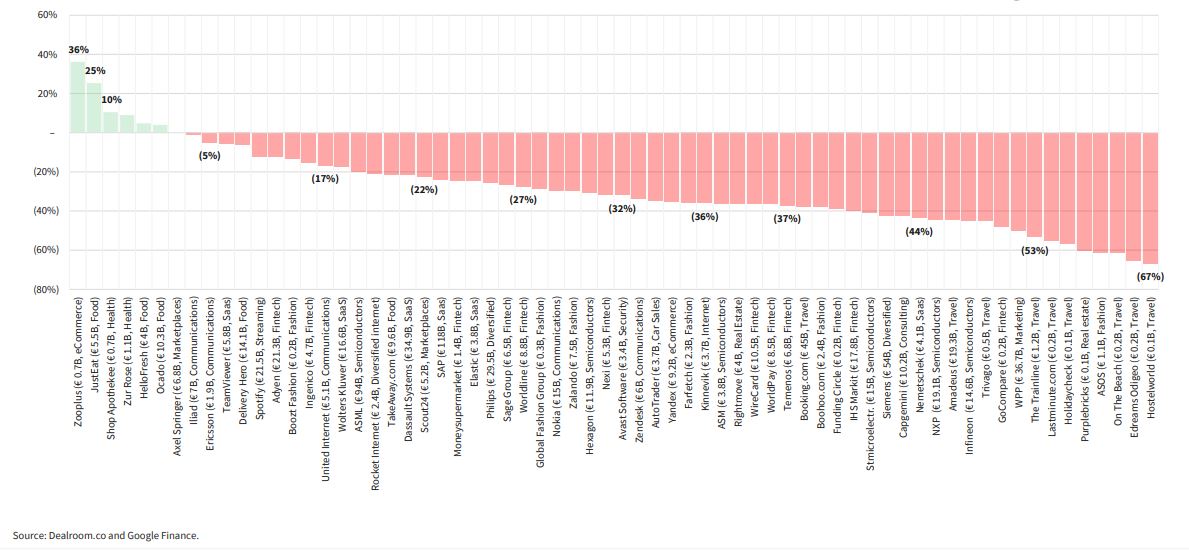 European companies that experienced absolute positive change amidst the coronavirus pandemic include the e-commerce giant Zooplus who jumped 36% in value – market cap € 0.7B, same with JustEat – FNB Company with 25% growth- market cap at € 5.5B. Also, Shop Apothekee experienced 10% growth- market cap at € 0.7B.
Meanwhile, companies like Zur Rose (market cap € 1.1B), Hello Fresh (market cap € 4B), Ocado (market cap € 10.3B) and Axel Springer (market cap € 6.8B) all remained fairly stable with 0 to 9% positive change in share performance.
· Structural vs. cyclical economic impact of the Covid-19 crises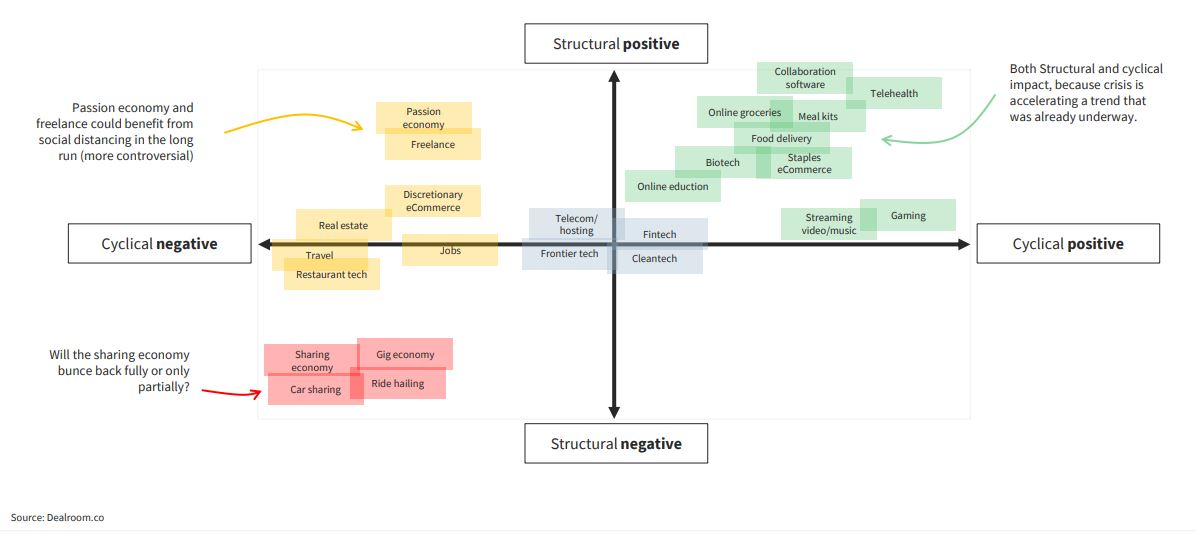 The positive cyclical and structural economic impact of the covid-19 crises are flourishing of businesses such as collaborative software, telehealth, online groceries, meal kits, staples e-commerce, biotech, online groceries, food delivery, streaming video/music, gaming, and online education, etc. These industries were already thriving at a moderate-pace, yet the Covid-19 crises have pushed these businesses for accelerated growth.
Industries that converge at a positive structural economic impact but cyclical negative include freelance, passion economy, real estate, discretionary e-commerce, and at the lower end- travel, restaurant tech, and jobs. Businesses such as freelancing and passion economy can benefit from social distancing in the long-run. Meanwhile, industries like real estate, recruitment, travel, and leisure business are currently experiencing a cyclical negative impact, i.e. they will revert over a period of time.
Industries experiencing negative structural and cyclical impacts include car-sharing, ride-hailing, the gig economy- overall the sharing economy. Social distancing mandates have killed the sharing economy. It is yet to be seen if it will bounce back fully or only partially once the crises are over.
· Publicly listed venture capital funds and diversified internet holdings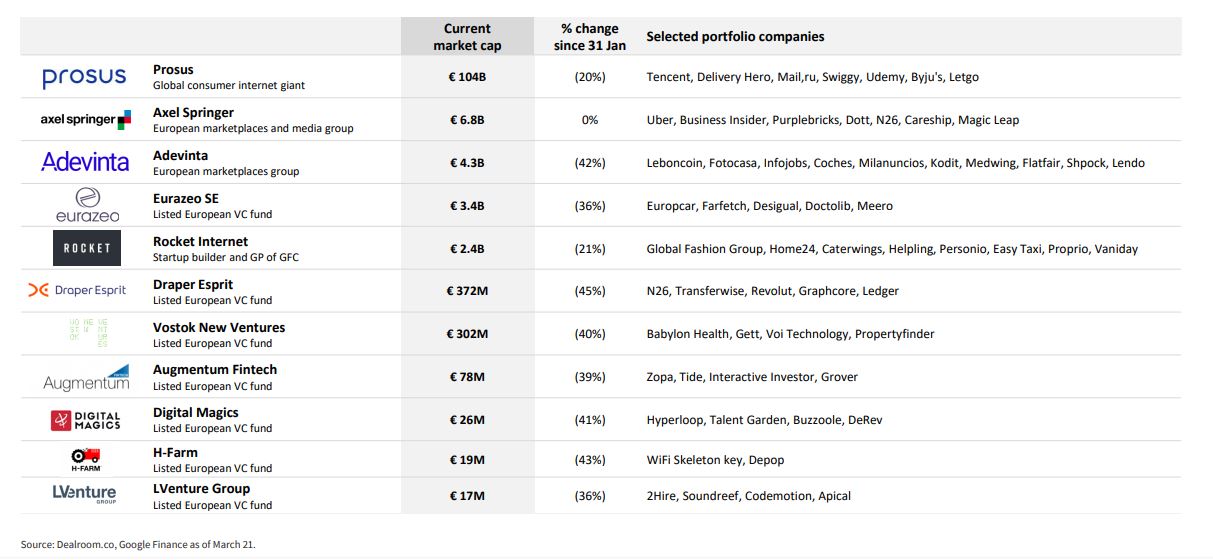 Prosus, the global consumer internet giant (market cap at € 104B) experienced a jump of 20%* in share performance- its portfolio companies include Swiggy, Tencent, Delivery Hero, Udemy, Byjus, and Letgo, etc. Meanwhile, Axel Springer, the European marketplaces and media group didn't experience a loss or gain with 0% change – its portfolio companies include Uber, Business Insider, Purplebricks, Dott, N26, Careship, Magic Leap, etc.
Ventures such as Adevinta, Draper Esprit, Eurazeo SE, and Rocket Internet all experienced 20-40%* of negative downfall in share performance.
· Initial start-up surveys indicate immediate cash flow issues for many start-ups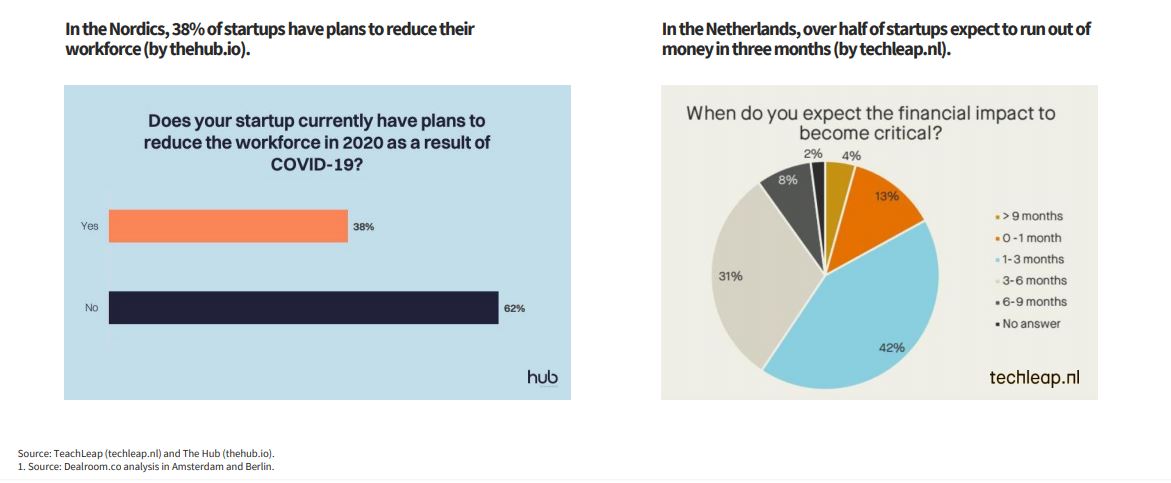 38% of Nordic startups have plans to reduce their workforce. Meanwhile, in the Netherlands, over half of the startups expect to run out of money in three months. Only 8% of start-ups claim to be capable of sustainability for 6 to 9 months.
· Small business hold less than one month of a cash buffer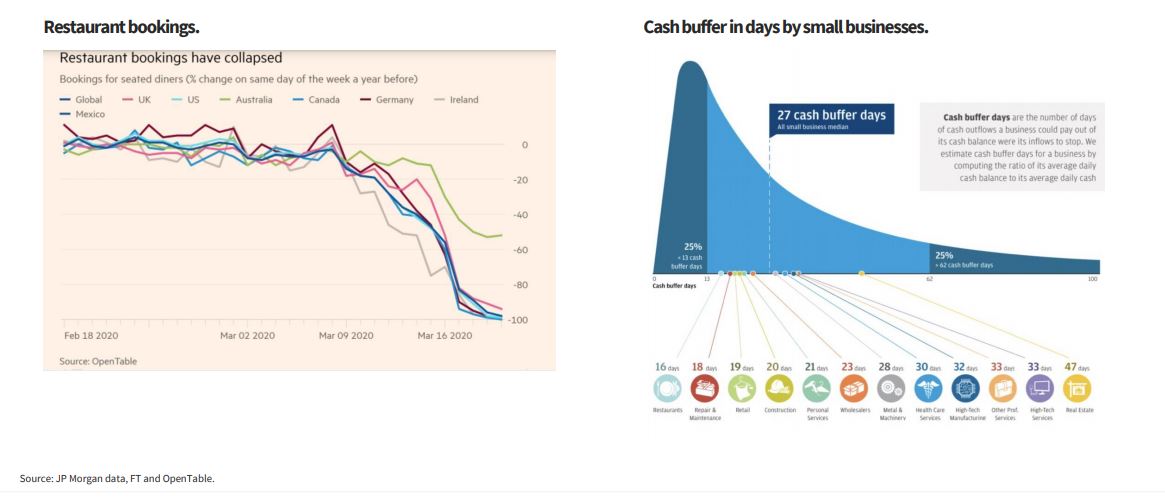 Restaurants bookings have crashed all over the world. The percentage for bookings for seated dinner fell to near 100% for hotels globally with an exception of Australia where it fell down to 60% due to Covid-19 lockdown.
Most small businesses have only a month's worth of cash buffer days as per a JP Morgan report. As per statistics businesses like restaurants, retail, construction, high-tech manufacturers have only 16 to 47 days of cash buffer (i.e. the number of days of cash outflows a business could payout of its cash balance were its inflows to stop) as shown in the figure.
Note (*)- All share price performance are calculated from 31st Jan 2020 to 21st March 2020
Read more on Covid19 :