The much anticipated ICC World Cup 2019 is here, enticing billions of cricket fans all over the globe. While the championship is in England and Wales where cricket enthusiasts from the world over are congregating, not all are as lucky to be present. Fortunately for them, technology has made it possible to watch live games from wherever they are.
Regardless, whether the user is a die-hard football fan, basketball fan or cricket fan, sports app creators realize users' interest in convenient live game watching.
What is the status of the sports industry in the mobile world?
Despite the fact that almost everyone prefers watching major matches on the big screen in the comfort of their homes, fans appreciation shifted towards sports apps a long time ago. As a proof, the Statista report on "Mobile app verticals with the highest install and user base growth in 2018" acknowledged 'Games-Sports' apps as the third fastest growing verticals, coming after gaming and taxi/ride-hailing apps.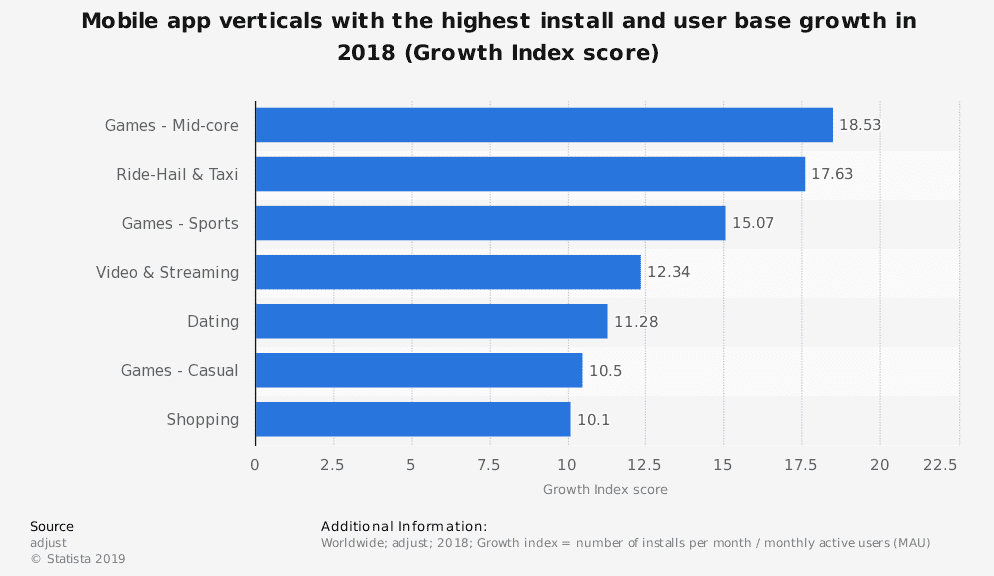 Meanwhile, sports industry itself is growing steadily year by year, so much so that it is expected to grow at a CAGR of 5.9% to an astounding $614.1 billion by 2022.
One of the biggest reason cited for this development is the emerging markets increasingly investing in sports, like for e.g. for 2018-2020, the federal government of India has set aside a $262 million budget for the 'Khelo Program' to promote the sports industry in the country.
You can infer that global sports market is going to flourish in the next few years and that the spectator market will look for new sports apps that can fulfill their need of getting to know what's going on in a game on a real-time basis. So what do you need to develop a popular sports app like Crickbuzz, ESPN app, FIFA or OneFootball app? This brings us to the following.
Main features to create the perfect sports app like Crickbuzz, ESPN or CBS Sports app?
Live-streaming, live-score, real-time stats and news
The most important feature of a sports app is providing users will live feed of the match in the form of video, updates, statistics and news. Users want to be updated about highlights of the game on the go, thus it is one of the core features of sports app. This features not only provides convenience to your users but also helps sports enthusiast to learn about new sports they may like to explore.
Upcoming Schedule Notifications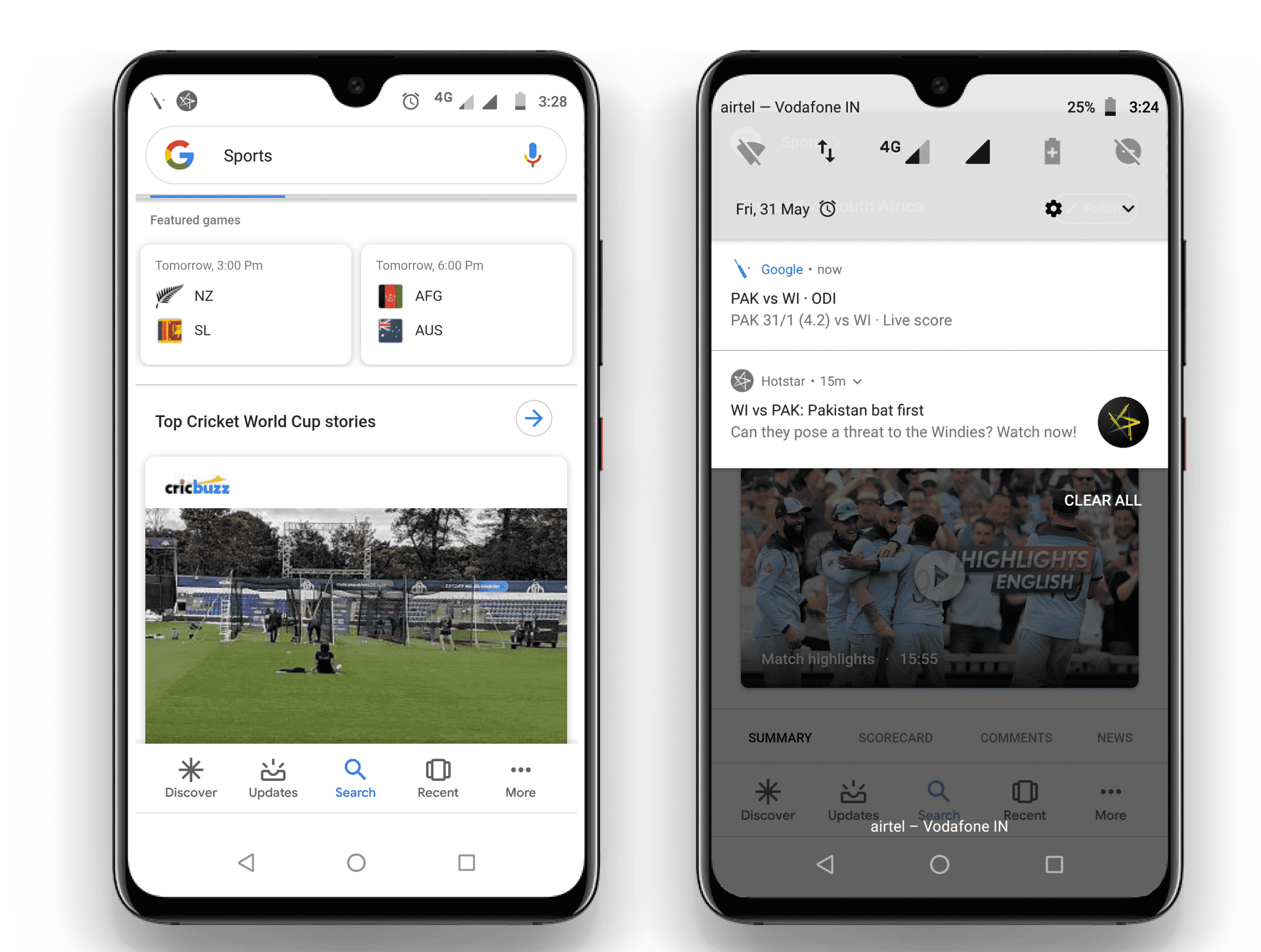 'Push notification' feature provides users with relevant upcoming sports match information, for e.g. -time, date, place/location of the events. It can even provide notifications for the events related to sports matches like an opening ceremony or interviews with star players etc. The key point is that with push notifications you grab the user's attention and engage/ reach them by providing convenient services on the go.
On-demand videos and highlights of the match
To engage your users, you can upload on-demand sports videos and matches on the app. The necessity of this feature is to provide good quality broadcasts, provide faster content and all in-demand videos. In sports app development, it is important that you deliver this feature in a way that users can get fast and easy access to various videos (be it highlight or a whole game in high resolution) from any access point (various devices) without any trouble.
Ticket Sale and Seat availability
Another important feature is to integrate features of best sports apps available like Cricbuzz, ESPN and OneFootball and then offer services from which you as a sports app developer can make the most of the sports-update apps like FIFA or ESPN. Your app users must be able to purchase tickets right in the app (given that you have a decent payment feature integrated).
You may even integrate your app with a third-party ticket sale service- where users can browse tickets, check seat availability and ticket prices. You can get a certain fee for each transaction as you generate new leads for the third-party service.
Updated features you can integrate to make an ideal sports app like Cricbuzz or ESPN
Merchandise and Brand Store
Fans want to show off their favorite teams by the merchandise the purchase. They buy t-shirts, mugs, footballs/bats that their favorite sports star advertise. Thus, an in-app merchandise store is a good idea if you want an additional income. Plus, there are popular sports brands like Nike, Puma and Adidas, whose products can be kept in your in-app store for those who play sports themselves and are a fan of the respective brands.
Sports Team / Sportsmen Catalog
If you are aiming to attract a particular sports team/ sportsperson's fans/fan club, then you can provide an additional feature with stories of their fav team or sports person.
Being a sports start-up, if you are looking for a mobile app development company or team that are equipped to provide solutions for sport-lovers, then you can hire dedicated developers from a company that is rated and reviewed outstandingly by third-parties like Clutch and Good Firms.
VRS (Virtual Reality Screening)
Virtual reality screening is an emerging trend in sports spectatorship. It provides an optimal experience that maximizes user satisfaction. One of its best example – Livelike lets the users "sit in a VR box suite and watch the game from multiple viewing angles like behind the goal or the 50-yard line" says TechCrunch. It may a short while for technology to really establish, but it's one of the most promising upcoming trends in sports spectatorship technology.
Sports prediction app/ Sports betting app
When there are big sports events like CWC 2019 on the horizon, sports bettors will naturally participate. Sports prediction app like CricViz has such a computer model that it enables the prediction of match outcome and team/player performance.
Chat
A chat feature will allow all your users to discuss the game or share news about upcoming games.
While these are the features that make a perfect sports app, here are the main competitors to beat.
Top Sports App 2019 – Worldwide comparisons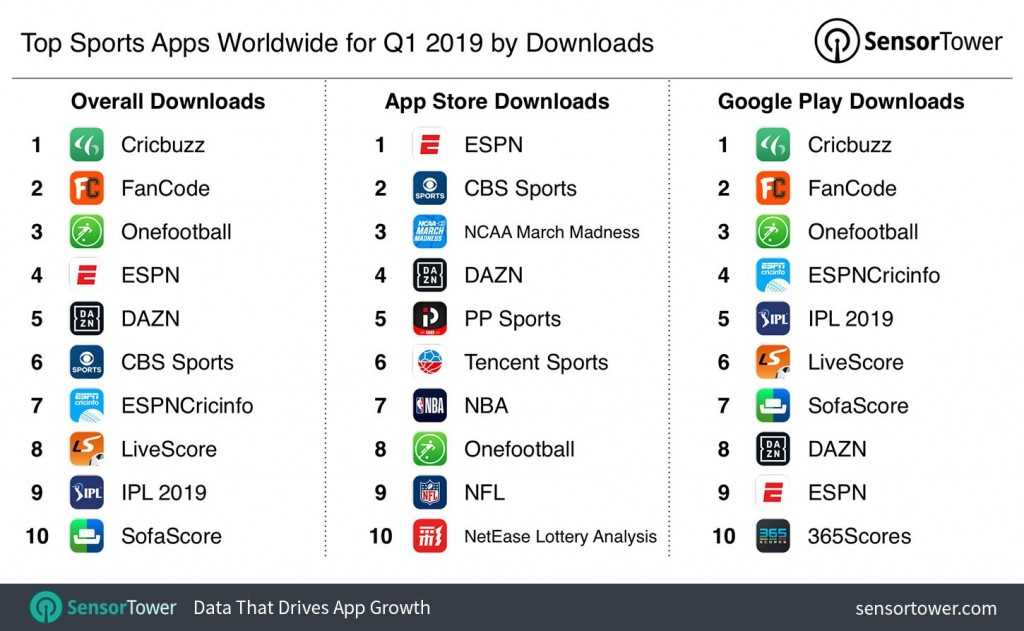 CrickBuzz
The most popular sports app in 2019 worldwide was Cricbuzz with more than 10 million installs. Sensor Tower says that 93% of those installs were from India, followed by 2.7% percent from Pakistan. With ICC World Cup 2019, the app downloads are sure to double.
FanCode
Fancode was the second most installed sports app worldwide last year with more than three million installs, with the overwhelming majority of those coming from India at 99 percent of the total.
Other top sports app that leads the most-downloaded list in Q1 2019 include ESPN, OneFootball, DAZN, CBS Sports, etc.
Conclusion
Sports is making huge waves in the mobile app world. If you any queries regarding what it costs to make an app like ESPN, FanCode or OneFootball, wondering how long it will take to develop an app like Cricbuzz or DAZN app or need mobile app development cost estimates, app developers for hire-get in touch with us via contactus@intelegain.com.