Microsoft services are down for many users around the world. From Office 365 to Azure, many popular Microsoft services are not working for some users. As of 8th Feb 2023, it has caused a major impact on the Southeast Asia region. This is a developing story, and we will update this post with more information as it becomes available. Stay tuned!
Microsoft service outage – what's going on?
Microsoft has been experiencing an unexpected service outage since early this week, causing some disruption in a few Microsoft services. For those living in Singapore, Outlook users were among the most affected by this Microsoft service outage as it had a major impact on Microsoft customers here. Considering the inconvenience caused by its service interruption, Microsoft is working to resolve the issues and get its services back up and running as soon as possible.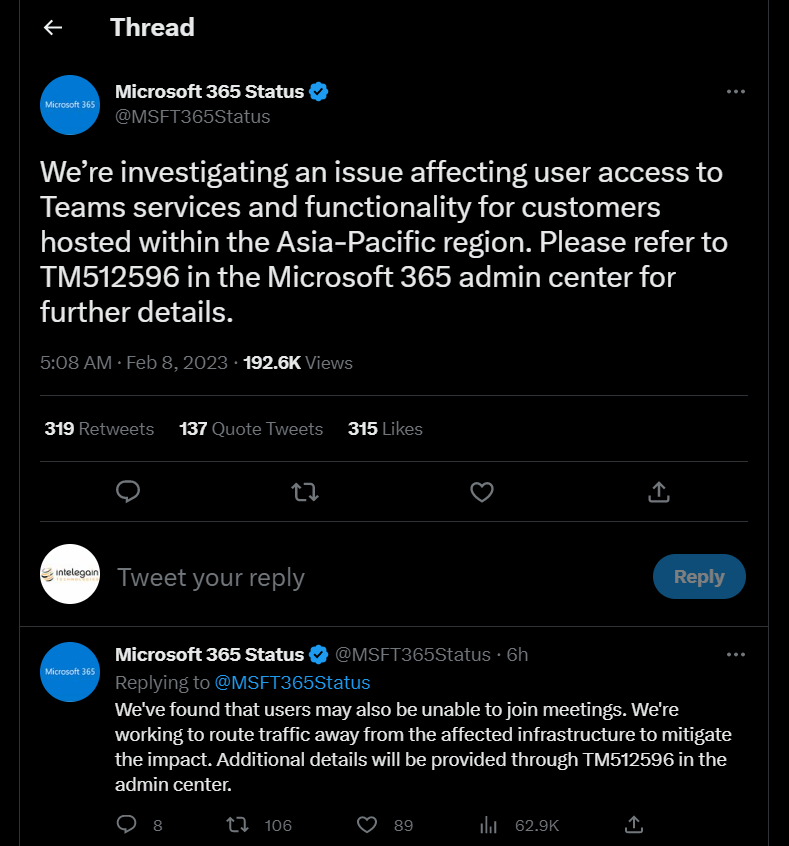 It looks like Microsoft customers in Singapore will have to be patient during this Microsoft service outage and wait for Microsoft to get their services back up and running.
Which services are affected by the outage?
The recent outage of Dynamics 365 Services has disrupted many organizations' operations and made them take a step back in the digital transformation journey. The Dynamics 365 suite was affected, along with Microsoft Teams, Outlook, and Virtual Machines. All services seem to have been impacted to some extent as users have reported issues connecting to and using these products. Fortunately, the majority of the services are now being restored although Dynamics 365 and Virtual Machines still remain down for some customers.
Find out more about the recent outage below: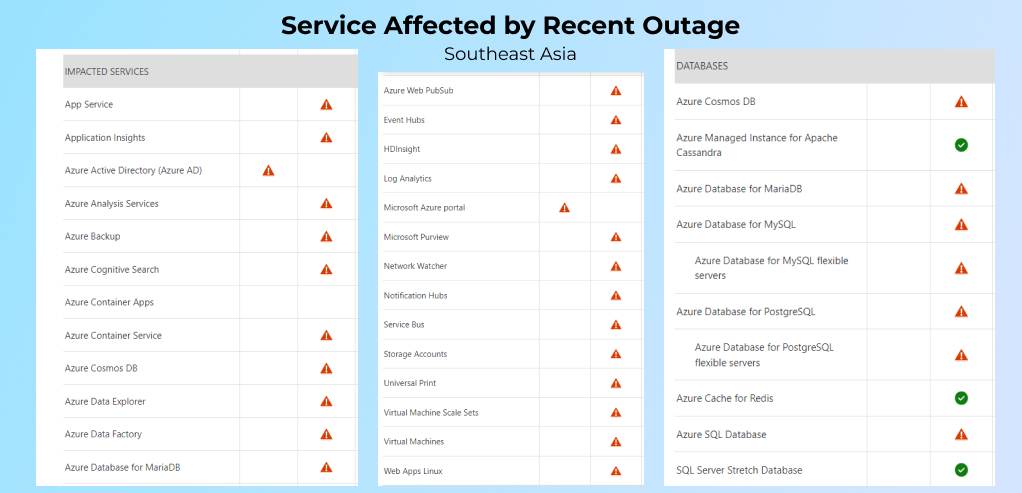 source: https://status.azure.com/en-us/status
How long will the outage last?
Microsoft is currently working on a fix for the outage. They have not given a timeline for when the fix will be completed. We will update this page as soon as we have more information.
Or you can visit the link here to find out the service availability based on your region.
For more info follow the official Microsoft Twitter handle here – https://twitter.com/MSFT365Status
What can you do if you're affected by the outage?
If you have found yourself in a recent outage, don't despair–it may be an inconvenience but there are multiple steps that you can take to get things back up and running.
It can be helpful to contact your Microsoft partner or another expert for assistance. If that's not an option, you may want to look into temporary solutions such as other communication mediums for your internal business operations.
As far as other services like virtual machines and Dynamics 365 are concerned you would have to wait for an update from the MS team.
Stay updated with Microsoft's status page for more information
It can be difficult to keep up with technology changes and new updates, and Microsoft's status page provides users with the information they need to ensure they're always up to date.
As it stands, the Microsoft service outage has affected a significant portion of users. Despite its magnitude, however, Microsoft's teams are doing their best to address the issue as fast and efficiently as possible. If you happen to still be experiencing difficulties due to the outage, we'd suggest using Microsoft's status page to check for additional updates regarding the situation.
Additionally, For any assistance, we at Intelegain are more than happy to assist you. Just send us an email at contactus@intelegain.com and our team will do whatever they can to help you out. Thus hopefully this case of digital "hiccups" can be resolved without any further inconvenience so that all of us can get back on track with our workday routines sooner rather than later!
Outage Update:
Europe: Feb 14th 2023

Some users in Europe might have issue to access various Microsoft 365 services or features.
MS team is working on a fix for the same.
Status: False Positive