CRM Software have been around for a long time serving business needs in managing their customers efficiently. However, more small and medium businesses (SMB) are now going mobile with mobile CRMs.
Businesses are now growing and expanding their customer base, with the power of high speed internet smartly in their hands. And, a greater UX is enabling them to go evolve their CRM strategy when managing their customers.
A recent Gartner research indicates a 500% growth in Mobile CRM apps by 2015.
With online Retail consumer market booming like never before, Mobile CRMs will aim to improve upon certain significant parameters. These include Customer Retention & Loyalty, Business Performance Visibility, Improved Employee Productivity, and Higher Customer Profitability eventually leading to greater customer satisfaction.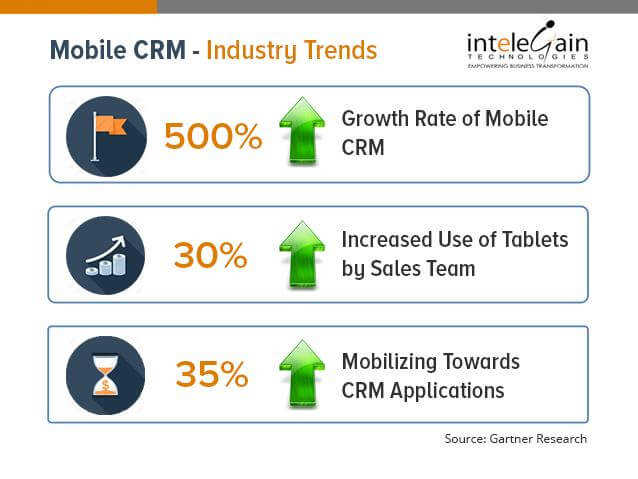 CRM Trends
With a continually rising customer expectation, organizations are now adopting the latest business strategy and services, Mobile CRM being one among them. As per the graphic, Mobile CRM software has the versatility for increase in sales and revenue, therefore paving way for the overall business success.
SMBs are now looking at Mobile CRM Apps for enhancing their efficiency, business acumen and communications instead of focusing solely on increasing margins. Mobile CRMs are becoming equally important for a business as its employees. Moreover, these have an even more notable impact in the long term that can never be compared to any employee's efforts. This is one of the major reasons why Mobile CRMs are among the most profitable systems that any and every small-to-medium sized business should consider implementing.
In a nutshell, here is how Mobile CRMs would help your business:
Increase Sales
On the fly availability of information on account history, customer lifecycle etc. helps recall customer information on the road, and schedule meaningful conversations and assist selling. Higher number of contacts can be connected with, while on the road.
Shorten Sales Cycle
Sales are being closed with fewer interactions as it allows sales to dedicate more time to prospect new opportunities. A mobile CRM can be customized to offer important information on the fly such as inventory availability, existing pricing models and any other information your sales team may need.
Faster Planning
While the sales people are on the road and attending different meetings, a Mobile CRM can help keep data organized. It will also help submit orders as they are agreed upon, instead of delaying them until the travel time back to office.
Improved Information and Insight
A statistical analysis of customer data captured can help senior managers to access real-time sales reports from the reps on the road. The CRMs can keep them informed on new deals agreed upon. The Mobile CRM can offer collaboration capabilities between the managers and the sales reps. Therein, the managers can offer suggestions and advise on the fly for negotiating with customers on specific deals based on the data available to the senior manager for a specific customer.
A Customer Relationship Management (CRM) can largely contribute to the future advancement of any organization, especially if you are a small-to-medium scale business.
The Mobile CRMs have given impetus to businesses that aim for better customer retention and as a result, increase sales and profitability for SMBs. Intelegain Technologies for one has always adopted the "Customer First" strategy and helped businesses shape up their Mobile CRM.
Give us a call or email us and we can help you in planning and execution of your next Mobile CRM app.