Apple WWDC 2018 concluded its inaugural day with some big new announcements.
We previously talked about iOS "Time well spent" feature that aims to beat phone addiction, Animoji, Group FaceTime updates on iOS 12, Siri Shortcuts, MacOS Mojave, Augmented Reality in the form of ARKit 2, Measure app and last but not the least – Apple's bid to provide more security and privacy to its users.
Here are some more highlights you may have missed.
Apple Watch as Walkie- talkie? Focus on New Workouts and Connectivity
Perhaps the most exciting new feature on the WatchOS5 is the "Walkie-Talkie". Understanding its mechanisms, it seems to be a good tool to use at home as well as on the go. You have to tap on the top of the watch and suddenly it turns into a walkie-talkie. The instant communication wrist-watch feature seems like the ideal wearable that must have been introduced a long time ago.
The invitation to connect appears as a yellow dot on the watch display. Tap it and then push-to-talk mode starts, messages are sent near-instantly and play back like an intercom, which gives the feeling of being more immediate than a phone call.
The technology uses FaceTime Audio, as per the company, however, generating a short message instead of a continuous call. It works over Wi-Fi, through cellular-connected watch or through a bluetooth connection on watches that are paired.
More updates on WatchOS 5 also includes Siri suggestions, plus Siri can be activated just by bringing your wrist towards your face. It is also getting a Podcast app where people can pay for items with Apple Pay right from the notifications screen.
The Apple Watch fitness features are also getting an update- there is the new yoga mode for tracking how much time is spent on the particular exercise. Just start the watch at the beginning of the workout and it will record when you are active. It can set records and measure how many steps you take like Fitbit.
TvOS for Apple TV: Dolby Atmos is coming on Apple TV 4K
There were not many announcements about the TvOS at WWDC 2018. Apple, however, did announce that it is adding Dolby Atmos audio support for the smart surround sound. In addition, there will be more 4K HDR content available.
It is also starting to work with more TV providers in order to utilize Apple TV as a primary viewing device for live, on-demand and cloud DVR. In the US, the company said that Charter Spectrum cable subscribers will be able to replace their boxes with Apple TV later this year.
There is also a new feature called "Zero Sign-on" which unlocks the supported apps with your TV service if you are on the provider's broadband network. You wouldn't need to remember their passwords anymore.
You can also see location information for Apple's screen-saver drone videos, plus the company will include space footage in those reels- all thanks to a collaboration with the international space station.
Safari Gains Favicon Support in iOS 12 and macOS Mojave
Apple has a slew of new features for the all new Mac OS 10.14 Mojave, but one of the exciting updates is that it will add support for favicons- which are tiny icons that appear to the left of the website page titles in tabs and bookmark bars. In many instances, a favicon is the website's or the brand's logo.
While they seem trivial, they are very helpful in quickly identifying a website from the other on your tab strip. This is because logos are the best way to speedily communicate information with the human brain.

Favicons are also useful in bookmark bars, as they are more identifiable and take up small space instead of long website names- which allows more bookmarks to be viewed.
While Microsoft has long since supported favicons, it was long time due for Safari. One of the biggest reasons for Mac users to use Chrome was the Safari's bad design which just shows black text against a gray tab.
Favicons are not displayed by default, so the feature must be enabled in the browser's preferences on Mac or via the Settings app on iOS devices.
Apple aims to simplify AI models with CreateML and Core ML 2
Apple announced the launch of its CreateML tool along with an updated version of Core ML framework.
Create ML's is for simple, efficient machine learning training on the Mac. Made in Swift, the Create ML allows training of vision and natural language data with your own custom data, without being an "ML expert" as Craig Federighi, Apple Sr. VP of Software Engineering puts it.
The Core ML 2, the updated machine learning framework, is a 30% faster which uses a technique called "batch prediction". Quantization has enabled Core ML 2 to shrink models by up to 75%.

In Apple's own words Core ML "lets you integrate a broad variety of machine learning model types into your app. In addition to supporting extensive deep learning with over 30 layer types, it also supports standard models such as tree ensembles, SVMs, and generalised linear models.
Because it's built on top of low-level technologies like Metal and Accelerate, Core ML seamlessly takes advantage of the CPU and GPU to provide maximum performance and efficiency.
You can run machine learning models on the device so data doesn't need to leave the device to be analysed."
The company also said that the developers of Memrise – the language learning app, previously took 24-hrs to train a model using 20,000 images. With Create ML and Core ML 2, it takes only 48 minutes to do the same on MacBook Pro and 18 minutes on an iMac Pro. Moreover, the size of the model was reduced from 90MB to just 3MB.
Bringing iOS Apps to macOS
One of the most memorable moments from the WWDC keynote was probably Federighi's answering users frequently asked question- 'Will Apple merge iOS and MacOS" and a giant "No" was displayed on the screen behind.
Even so, the company did confirm that the plan is to integrate elements of iOS's UIKit frameworks directly onto MacOS alongside the existing AppKit framework used on the desktop – which will result in tools that will let the third-party developers port iPhones and iPad apps a little easier in 2019.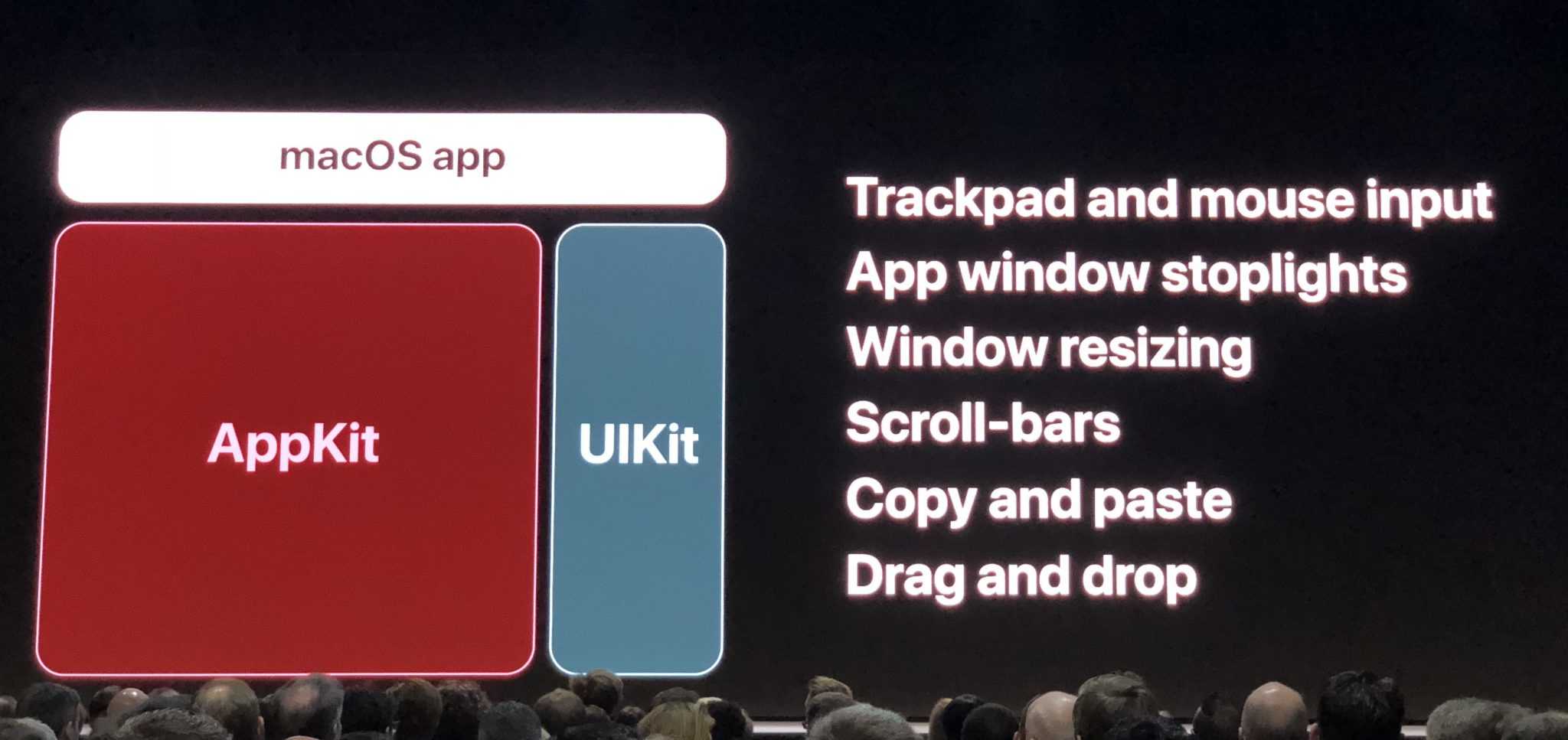 In an Interview with Wired, Federighi explained that as of now the plan is not to build a single Apple OS, but to start testing out the updated UIKit tools in its own apps for Stocks, Voice Memos, Home and News- coming to MacOS Mojave later this year.
The company is planning to build a software framework for the iPhone that can be brought over to Mac and made native to Mac so to speak. Some of this porting process will be automated, however, extra coding is foreseen for UI items like menus and sidebars.
"Even though the apps are effectively being shared between operating systems, Federighi emphasized that your Mac won't start behaving like an iPhone. "It's still macOS, you still have the Terminal, you can still attach four monitors to it, you can still hook up external drives," the article explained.
More on Apple WWDC 2018
Upcoming Privacy and Security Protections in macOS Mojave
iOS 12 hint at iPad Pros With Face ID and No Home Button
Redesigning the Mac App Store in macOS Mojave