How to drive app downloads with influencer marketing?
There are many ways to promote your app now-a-days, but standing out is not easy. You need draw up a strategy and consider the most popular channels that are in trend. Here is where influencer marketing for promoting your app comes to play.
The reason you need to try the influencer marketing strategy for your app is that it can help your product stand out in the best possible way. There are countless mobile apps on various app platforms. Users need a valid reason as to why they should download your app. Influencer marketing will help you increase your reach to the social media users.
What is Influencer Marketing?
Influencer Marketing Hub describes an influencer as "an individual who has the power to affect purchase decisions of others because of his/her authority, knowledge, position or relationship with his/her audience. An individual who has a following in a particular niche, which they actively engage with".
Whether it's a blogger, a speaker, a lifestyle journalist or any person with a huge following on the social media or anybody that your target audience would follow on Instagram, Snapchat or YouTube. Most influencers have some sort of social media component where they spread their word through their personal social channels.
Why Influencer Marketing works?
Since the internet as well as the offline world is full of advertisement, everyone, including your target audience is trying to find out genuine information and reviews. Feedbacks given by anonymous people versus trusting social media influencers who are standing right in front of them (many of them even share their personal life online so it feels as if the audience know them) – influencers seem more genuine and trustable.
So, if an influencer shares their experience on your app, it likely they will influence a lot of their audience to try out the app in the most organic way.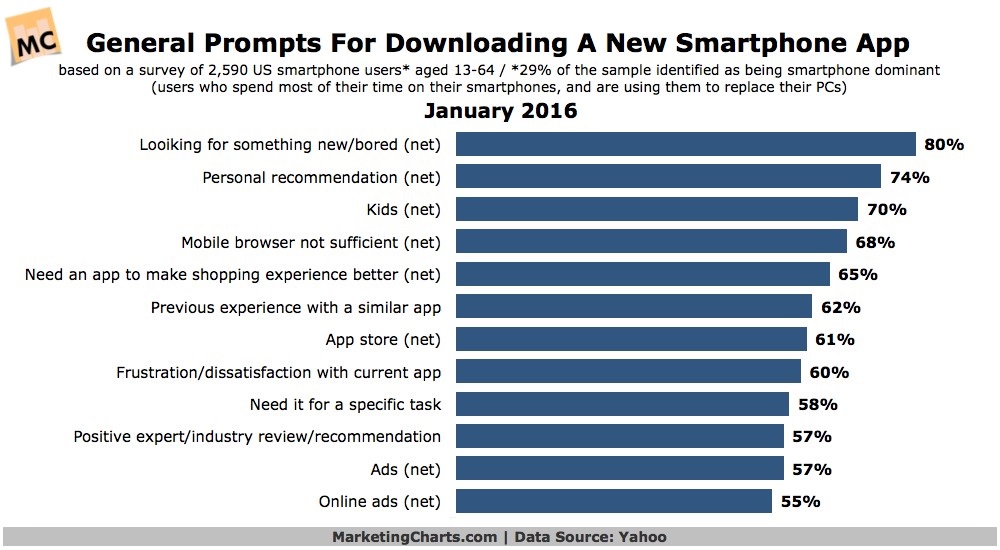 How to succeed in influencer marketing?
Founder of PopSocial Everette Taylor views influencer marketing as an important tactic to drive mobile growth via social platforms like Instagram and Snapchat without adverts. To achieve success in influencer marketing, he says that you need to "fortify your understanding of your brand's following- as it relates to influencer-bound platforms like social media". Thus, you need to consider the interests of your audience and well as the demographic factors when it comes to approaching any influencer for your brand.
Here are some steps you can take to ensure a successful influencer marketing campaign-
Finding the right influencer for your brand
Your choice of an influencer will, of course, play a heavy role in how successful your campaign turns out to be.  You should make sure that the influencer's followers are the target audience for your app- as it wouldn't make sense to invest in them if that's not the case.
Before you go knocking doors of every influencer you know, you need to set the objectives and goals of your campaign. What are your requirements? What do you want to achieve out of this partnership?
Choose the right social platform
You have to know your audience and which social media platform they are likely to be on. Every platform has its features. Where twitter offers limited character count, Instagram doesn't allow sharing links. There are not many tools out there that can help you find the right platform for your campaign, so brands need to pick their platform wisely by figuring out where their targeted audience is likely to hang out.
Check influencer's statistics
The most obvious way of checking if your influencer marketing campaign is a hit is to see if there is a significant uptake on the number of downloads of your app. The effect of a campaign is, however, not always instant. It could take time for you to witness the exponential growth in the number of downloads. You can do a number of things beforehand to see if your campaign will do well, like for e.g. how the influencer's followers react to sponsored content. If the comments are generally positive, you can expect a positive response to your app as well. Plus, you can also check the views, impressions per post and cost per acquisition to see how successful the campaign is going on.
Let your chosen influencer have creative freedom
You need to give your chosen influencer some creative freedom to let them express an opinion about your app in the most organic way. If the content is managed by app developers too much it is bound to be presented as too manufactured or polished (plus the points from the developer's side are more likely to be repeated in adverts and other campaigns). A third-party perspective on the benefits of using your app can be refreshing for the followers.
Digital marketing is constantly evolving as our digital platforms. The trending social platform may change, but the social media influencer marketing strategy is here to stay. Even if your budget is small to medium, you can still use influencer marketing in the most strategic manner.