A PO, in order to become a legally binding agreement between a buyer and a vendor has to go through an approval process. This process, however, in many instances can be laborious, time-consuming and cumbersome for the upper management that approve/reject the purchase orders. Thus, to bring greater flexibility, fewer bottlenecks/errors and increased efficiency and productivity throughout the organization, a streamlined purchase order approval process is necessary- how this can be achieved, let's find out –
Automating Your Purchase Order Approval Process
Regardless of how your company currently performs the procurement process- integrating automation with your current procurement process is possible. There a lot of options when it comes to choosing software, but it is best to choose a procurement solution that will integrate with your existing software and deliver your organization with a centralized, cloud-based document and data management.
To ensure a smooth shift towards greater efficiency with a streamlined purchase order approval process, following best practices must be followed –
Examine your current purchase order approval process
Review how the purchase order approval document travels throughout your organization- from point to point. Identify all consistent points of bottlenecks and failures. Take note of all the primary and secondary roles of buying and approval roles for integration in your system and automated routing.
Set milestones and establish standards for required efficiency and productivity
You have set benchmarks and standards for overall procurement functionality, vendor performance as well as internal business practices. Since you will have access to every feature of transactional information all throughout the process- you can do data analysis in order to get an insight on your overall process- efficiency and find overlooked issues as well as opportunities that can save you time and money.
Create a standardized order of product classifications with associated vendors
Determine and organize your vendor list as per contract terms, reliability and price points. Establish a plan b workflow that accommodates your essential buys and maintains production even if primary suppliers cannot meet the demands or are not available. This reduces and removes the invisible expenditures by brining all purchases under the system under observation and verification.
Use the standardized product classifications to discover contract renegotiation opportunities
Strategic sourcing and discounts can help strengthen supplier relationships and make it easier to assimilate suppliers into your inventory management procurement and financial planning operations.
Assign responsibilities/roles for ordering/approving unusual purchases
You can create workflows to manage un-repeated, unique orders. An appraisal workflow for such purchases will make sure that the existing policies are followed while still allowing discretionary purchases/ changing prioritization of purchases- like for e.g. delay a small non-significant purchase for a large urgent expenditure.
Provide training post designing of new workflows
Ensure everyone using the system is trained before launching new workflows. Provide real time support for questions and training refreshers every few months so that everyone in on the same page. Make sure that everyone has the mobile app and desktop versions set-up and are familiar with the system log-ins.
Refine your processes after you go live
Post deployment you can audit your workflows- observe the potential problems in regard to specific products, vendors, workflows etc., and modify them in a manner that they result up to the standards that you have set. The more efficient your automated purchase order approval process- the greater your savings and efficiency.
Don't settle for a clunky and inefficient purchase order approval process that wastes time and resources.
Here is how Intelegain helped India's leading home electronics company to customize their PO approval automation process in Dynamics NAV/ Business Central.
Challenge
The client uses Dynamics NAV as their Enterprise Resource Planning software. With their current out of box system, the purchase order approval processes consisted of the approver to login into the Dynamics NAV to approve or reject the Purchase Orders which is cumbersome and impractical especially in the case when approver is top management like CEO, CFO etc. Alternatively, company started following process which was too long and complex for the approver to do the activity as they were conditioned to approve PO on paper. This resulted inefficiency and unnecessary delays in approval process.
The client was keen to improve efficiency and productivity in their organization with automation in purchase order approval process. Thus, Intelegain was tasked to provide a solution, where the client could approve or reject purchase orders in a convenient and secure way.
Solution
Working with the client, Intelegain designed and implemented several automated solutions including current purchase order approval process leveraging cloud application integrated with the company's Dynamics NAV.
Intelegain reviewed the current system and identified consistent points of failure. Making a note of these bottlenecks, they set benchmarks for required reliability, efficiency, and performance. Since the PO approvers were finding logging into Dynamics NAV for PO approval too laborious, inconvenient, and time consuming, Intelegain developed a solution for PO approval automation using NAV SOAP APIs, Email service and Azure Web App.
After automation implementation, the PO approver doesn't have to log in their ERP system to approve or reject the purchase order. With the updated system, they can view as well as accept/reject Purchase Orders directly from the email. The implemented solution allows multiple approval levels with the option to send approval requests sequentially as per the set-up. The customized automated solution is secured by approver's login credentials of the client's ERP system.
New Approver Process Workflow: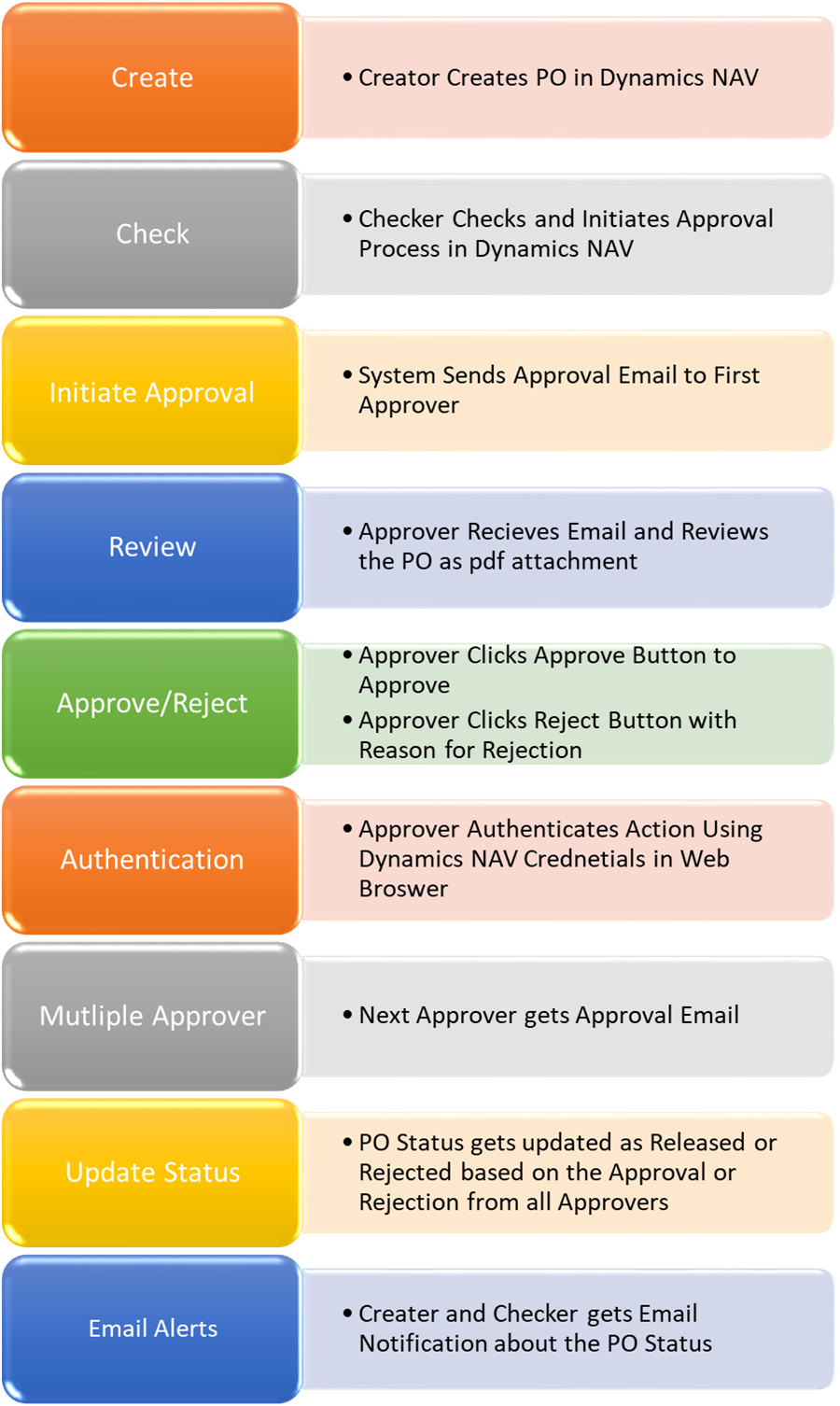 Result
The primary benefit that the client witnessed post automation is process acceleration. Due to quick digital authorization, all the data approved in the PO is passed quickly to the company's ERP system. This consequently improved customer service with fewer bottlenecks and better, faster decision making.