As a hotelier, you have to take full advantage of today's cutting edge technology platforms customized for the hospitality sector. They help increase efficiency, automate daily operations, save time, reduce costs and also aid in reducing errors. Do you have a platform that effectively helps you attain all the above-mentioned benefits?
If your answer is 'no' then you are in need of a system that will allow you to efficiently manage the different online distribution channels that your property sells through. As for those in the hospitality industry know, a crucial part of any revenue management strategy revolves around a good distribution channel management. Because, while direct bookings are preferable, maximizing the bookings and revenue need help from third-party distribution agents.
If you are looking for a compelling argument for investing in a channel manager, here we go –
How does having a Channel Manager benefit your business?
Easily add any number of booking channels for your hotels
Multi-channel booking strategy is the best regardless of the season. If you have a multi-channel booking strategy, you won't have to be reliant on limited booking sources. The more sources you have that bring in the booking, the better it is for your business.
Therefore, investing in a Channel Manager will give you access to the hundreds of connected channels. It connects your hotel with all the booking platforms and displays your stuff to a wider audience looking for accommodation in your location. It brings you benefits such as – higher ROI and distribution reach, a variety of booking sources, generating more demand, more visibility in the domestic and international market.
Channel Manager provides time-saving automation (which saves you from errors)
The probability of errors like double bookings, delayed/wrong updates is high if you opt to manually manage the inventory levels and rate distribution tasks. Furthermore, then come to the rectifications which take even more of your time.
A right Channel Manager saves you hours of manual rates and inventory updates day in and day out. It takes away the high probability of errors, maintains the update logs, keeps control on over-bookings and take care of the updating and syncing of inventory and rates. It also alerts you of the updates communicated to the OTAs.
A single dashboard for managing all your inventory and rates
Deploying a Channel Manager can give you an overall insight into the availability and the rates distributed on all connected channels on a single dashboard, making inventory management simple.
With this solution, there is minimized human intervention to push and pull data, thus you can post and manage the precise room rates and inventory allocation within minimum efforts. You can also send out pooled inventory to the channels in order to obtain maximum bookings from any channel without the need to worry about double/over-bookings.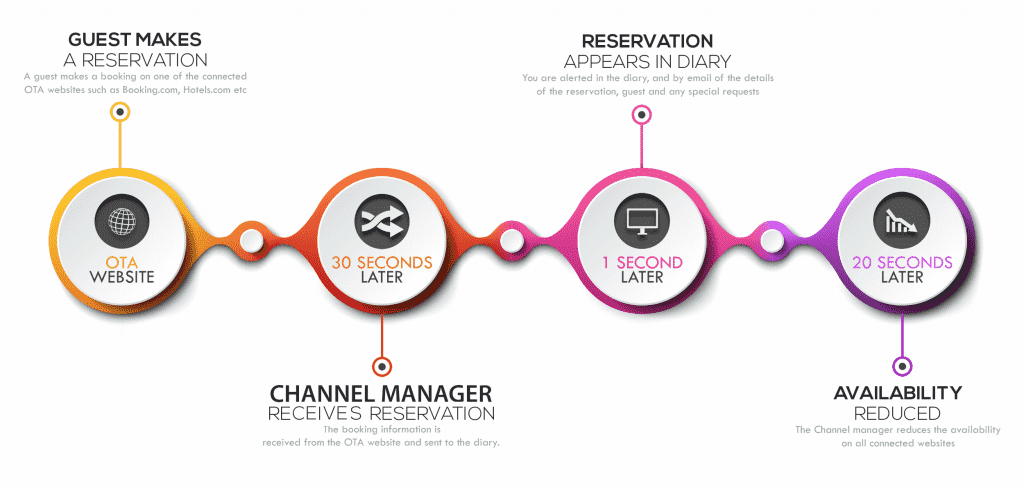 A Channel Manager will also keep your availability and rates synced and updated to the latest across all the channels automatically. You can also post inclusions and restrictions and at the same time process new, changed and cancelled reservations centrally.
Avoid over and under-booking of rooms
Over-booking, double-booking and under-booking are a massive challenge for all hoteliers. With channel management solution your inventory gets updated on all the channels your hotel is connected to and you get to know in real-time how many rooms are available. Thus you can avoid over booking or double booking (both major reasons that affect your hotel brand value negatively).
On the other hand, due to uneven distribution, there is a possibility that you may not use the inventory to the fullest and therefore under-book. This can also be avoided with a Channel Manager.
Swift stop-sale and auto-updates
In instances where there a sudden demand for bookings for a group and you need to use up the inventory that is currently allocated to and live on the given travel site. There is a sense of fear when stopping the sale manually. There are so many to and fro functions like these that may overwhelm you. Here is where a Channel Management System will come to play.
If you are sending the room availability and rate too frequently- you might as well need to tell a specific channel to stop selling some of your inventory. Afterwards, you may release the inventory. All you'll need to do is to click on stop sale button and then the Channel Manager will atomically halt all online sale pertaining to that specific inventory on that channel. This saves you repeated efforts and also prevents loss of profit that you may suffer through error.
Ensure that your properties avoid rate-disparity
It can be tricky to see your bookings increased and wanting to make the most of it. Meanwhile, you may even want to offer your rooms to the guests on discounted rates- this becomes a cakewalk with a distribution tool. A Channel Manager is designed in a way that it can automatically maintain efficient rates to make sure that any modifications made by you in the system are unanimously updated across all platforms in real-time, dramatically reducing or even erasing the probability of errors. This will help you maintain rate-parity and improve your hotel's reputation online.
Intelegain recently helped one of Australia's leading travel group build a Comprehensive Hotel Channel Management Solution that helps manage all inventory from a central location. 

The Channel Manager integrates with some of the most popular booking sites such as;

Booking.com, Expedia.com, AOT, Lido, Hotel Network, Agoda.com and many more.
Conclusion
Without a Channel Manager to help you out – You'll have to worry about overbooking and under-bookings, rush to update every system with live rates and occupancy every day, repeat those same time consuming tasks every day and potentially lose major profits, opportunity costs due to errors.
With Channel Manager, you don't have to rush to update all systems, you can effectively check and update the room rates if/when you wish to do so from anywhere, anytime. A Channel Manager will help you automate recurring operations to save time and money and master productivity, earn a higher revenue with no opportunities lost.
So, which type of hotelier do you want to be? An efficient one with a Channel Manager or an out-dated one. Decide now!